Students, faculty, and staff can comment on videos in collaboration with each other
Remark is a tool that allows for individual and collaborative annotation of videos. Remark is available to anyone at Georgetown, instructors, staff, and students.  Instructors can upload and share videos from a number of services—such as Dropbox, Google Drive, and Georgetown Box—with students in their class. 
Remark was originally intended as video editing software, therefore the verbiage is different than what you would use in an academic setting. For example, the roles are Manager, Editor, and Guest.
Students and Teachers can make comments that link to specific times in the video, and these comments can be reviewed and replied to by anyone in the group.
Below is documentation that will guide you through using Remark, including how to add videos, adding users, and commenting on videos.
If you have any questions that aren't answered in this documentation, feel free to contact us at cndls@georgetown.edu for more assistance.
Getting Started with Remark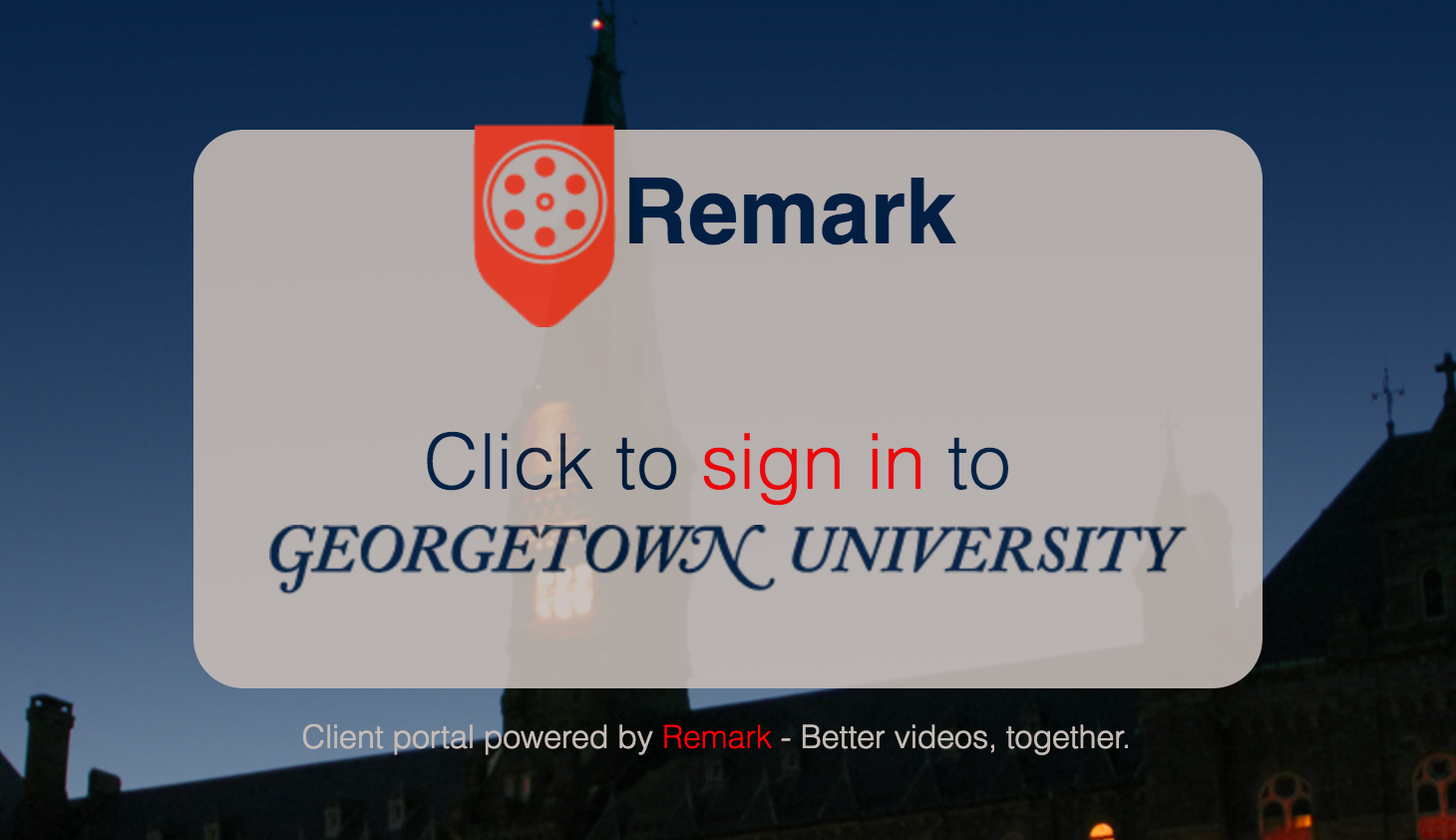 Every member of the Georgetown University community who has a NetID can sign in to Remark. Go to: https://remark.georgetown.edu/login. After you see the page below, click "Sign in".
After logging in, you will see the Remark Dashboard. The dashboard is the control panel of your Remark projects and tasks. It gives you an overview of your assets in Remark. You can create and manage your projects here.
For each project, you can add videos and Collaborators, but although there is a "Discussion" icon, this is not where you will comment on videos.
Starting a project in remark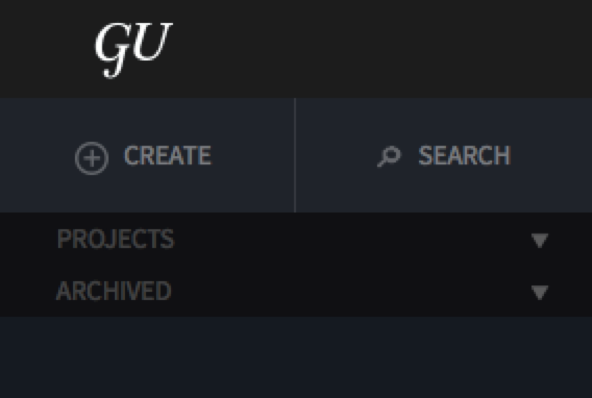 To create a project, click the "Create" button on the top left of the dashboard.

Give your project a name, then click the red "Create" button. After creating the project, it will appear in the menu on the left of your dashboard.
If you don't have any videos already added to your project, you will see a large red button with the text, "Click here to add video or folder."
You will see a window appear that allows you to add videos in multiple ways:
Adding a video url from a video hosting service like YouTube
Adding a video directly from your computer by clicking the Browse button
Adding a video that has been already added to Dropbox, Box, YouTube, Vimeo, or Sharefile.
If you have videos added to your project, you won't see the big red button anymore. You can use the Add button at the top of your dashboard, which will present the same options detailed above in "Adding your first video" section.
Your videos will appear in the list of videos for each project.
Adding Collaborators to your project
Remark is intended to be used by groups of collaborators. Collaborators of a project are assigned different roles which affect the actions they are able to perform. There are three possible roles for participants in a project, along with the role of Owner, which is given to the user that created the project.
Manager: Managers can do everything an owner can such as invite users, move things around, and even remove the viewing room completely. Within a viewing room, Managers can change settings such as passwords, deadlines, blind viewing and security.
Editor: Editors can add videos to a project/folder, access the Review pane and enter the viewing room.
Guests: Guests can enter viewing rooms and make comments on the video, but can't do anything related to project management (adding/deleting videos or folders) or adding/removing more collaborators.
If you created a project, you are the Owner of that project and have full access to both content and Collaborator settings. To add additional Collaborators, click on the Users option in the Dashboard, select a role, and enter their Georgetown email address. After clicking Add, invited Collaborators will receive this invitation email from Remark, including a link. Click the link and you will be directed to the login page.
Commenting on videos—the act of adding annotations to specific, relevant times in the video—is the main feature of Remark. There are a number of ways you can comment, including with text, voice, or drawing.
Comments will appear in a feed of comments displayed either to the right of the video player (when in Horizontal viewing) or below the video player (when in Vertical viewing).
Comments can be made at any time during video playback. There are autopause settings that allow users to make comments without worrying about first pausing the video in specific locations.
In addition to making comments, users can reply to other comments, forming a dialogue that can be linked to distinct points in the video.
Controls to make comments can be found next to the video player's controls.
How to make text comments
The most common type of comment will be with text. Users can add comments in the text field ("Add Comment Here"). After a text comment is made, it will appear in the comment feed.
Text comments can also be made using the Quick Comment feature, which is enabled by clicking on the hash icon. A small dialog with a text field will appear, allowing users to enter a text comment.
How to make audio comments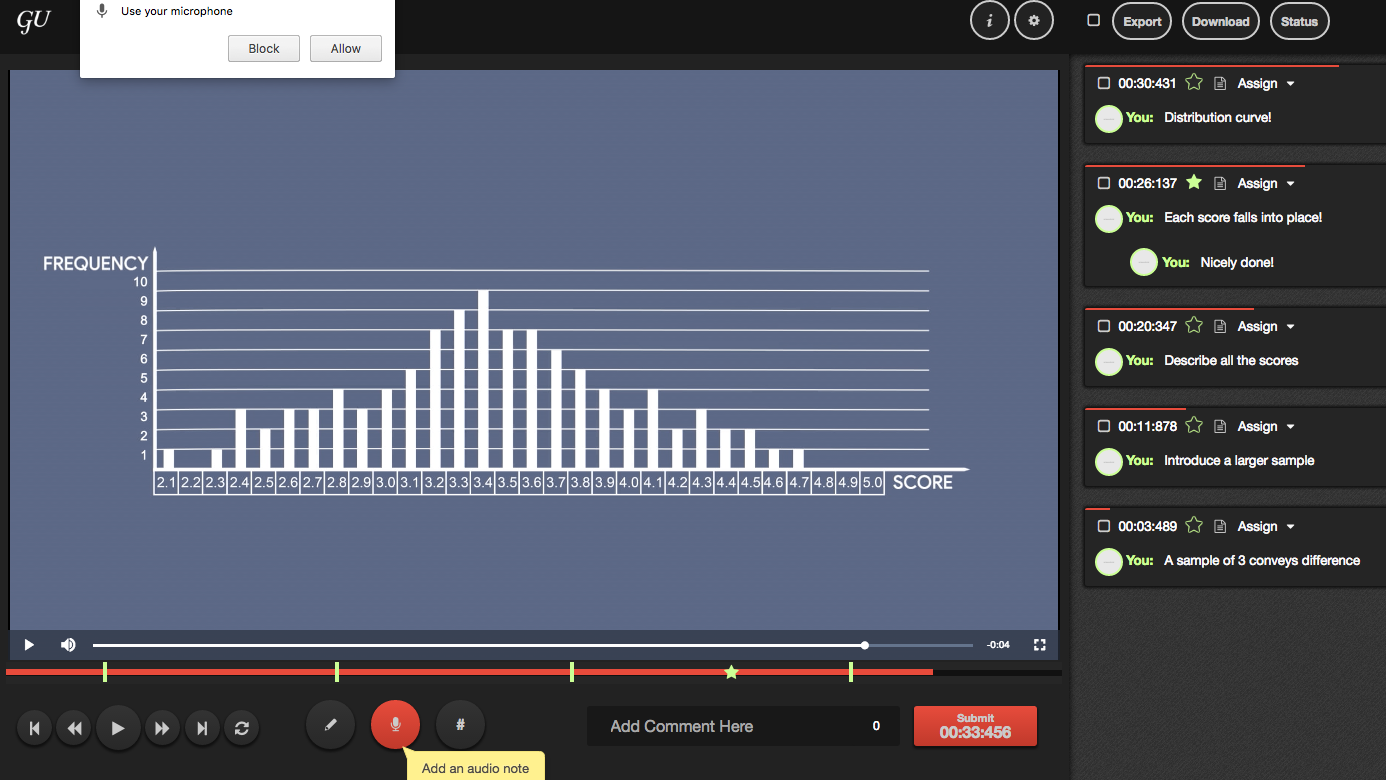 Audio comments are made by clicking on the microphone icon. Be sure that your computer's settings are set to the right audio input, which differs depending on platform. If your computer is set to accept audio input from the correct microphone, you'll be able to record a comment an audio clip of your comment.
The audio clip will be added to the comment feed after a short processing period. A small audio player will be added for the comment, allowing you to play/pause the audio clip.
Note: In the Settings menu, if you don't have the option to "Enable autopause on voice comment" turned on, unlike making text comments, the video does not stop when you make an audio comment.
How to comment with drawing
Drawings are made via mouse, trackpad, or if using a tablet, directly on screen. Comments made through drawing will appear in the comment feed, but the still frame where the drawing was created will not be visible in the feed. However, when clicking on the frame of the comment within the feed, the video will jump to that frame, and the drawing will be visible over the video.
Comments are useful for students to insert their own thoughts on the video, but students will also be able to reply to existing comments to create a discussion.
To reply to a comment, simply click on the comment and a reply text field will appear. Alternatively, users can click on the ellipsis icon to the right of a comment; a menu will appear that includes the option to reply.
To edit a comment, select the ellipsis icon associated with that comment. You'll see a list of actions that can be done to the comment, including editing.
You may want to highlight some comments, signifying that they stand out as important or noteworthy. This can be done by starring a comment. In the comment field, clicking on the star icon will create a star over the comment's marker in the video timeline.
To get a file of all comments (PDF, CSV, Adobe Premiere, Apple Final Cut/Final Cut Pro, Avid Media Composer), select either individual comments by marking the checkbox next to the comment, or selecting all comments with the checkbox above the comment feed.
Click on the Export button and choose the file format you want to receive.
If you choose either the PDF or CSV version, you'll receive a spreadsheet containing the comments' timestamp, user, and comment text.